"Chris has helped me start to lay the groundwork for a sense of financial stability as an artist. 
He totally gets it."
10% OF EVERY DOLLAR YOU SPEND GOES TO PROVIDING ONE-ON-ONE FINANCIAL PLANNING FOR THOSE WHO CAN'T AFFORD IT
"Chris has helped me start to lay the groundwork for a sense of financial stability as an artist. 
He totally gets it."
10% OF EVERY DOLLAR YOU SPEND GOES TO PROVIDING ONE-ON-ONE FINANCIAL PLANNING FOR THOSE WHO CAN'T AFFORD IT
I believe in the power of one-on-one help and that's why I've dedicated my practise to providing the best personalized help I can to whoever needs it. 
I've set up my practise to exist competely online, so whether you live next door in Toronto or in South Africa… all you need is an internet connection and we can make it work.
If you want to know more about me, my qualifications, who I work with, and my mission at R2R… check out MY STORY. If you have any other questions I haven't managed to answer, send me an email and I'll be happy to fill in the gaps.
What can you expect from me?
Every client is different, but I like to describe what I do in three big categories: I provide clarity, direction, and accountability. Here are a few ways those things might play out in our work together…
CLARITY
I CAN HELP:
Figure out where your money is going
Figure out where your money is coming from
Build a complete picture of your current finances
Focus your goals and values
Break down your money structures (accounts, apps, etc) and show you how much they cost and how you're using them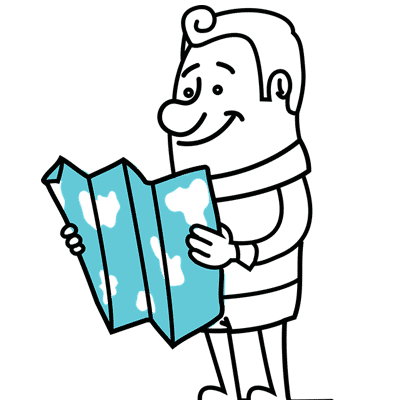 DIRECTION
I CAN HELP:
Make an month by month action plan of how to accomplish whatever your goals are (save more, pay off debt, or risk proof your life)
Explain the tools that might help
Frame financial choices in a clear way and empower you to make a decision
ACCOUNTABILITY
I CAN HELP:
With regular check-ins to keep you on the right path
Answer questions when they come up
You through every step of the way as you form new habits and systems
Think through new circumstances as they come up
What does it cost?
I'm a fee-only financial planner, which means I don't make commissions or sell any kind of product. You pay me for the work we do together… and that's all. 
The price is really dependant on your situation. Sitting down for an hour to talk about HST is way different than gathering all your documents and doing a full financial plan.
That's why I deliver you a quote after our first discussion. That way you know exactly what our work together is going to cost, and you can decide then whether you want to move forward. 
Prices can run from $100 for a one hour session to $3,000+ for the most intensive work. Each quote is different, but I've included some examples to give you an idea of what to expect.
SETTING UP A BUSINESS
Steph was completely overwhelmed by the process of 'setting up a business'.
She wanted to sit down and talk about bank accounts, HST, and how to seperate out her personal and business lives.
She didn't really need me to dig into any of her personal numbers, she just wanted to ask a bunch of questions so she had the information to do it herself.
We scheduled a 1 hr Skype session and talked everything out.
PRICE: $100
Some extra accountabilty
Aaron knew that he wanted to get serious about his finances. He knew exactly what he wanted to do… but he was really struggling with sticking to it.
We met and made a plan for the year, really clarifying what he needed to do to get where he wanted to go. Then we met once a month to talk through how things were going. 
"It was like having a voice teacher for my money" – Aaron
PRICE: $100 A SESSION
Variable income mastery
Sarah was feeling completely overwhelmed by her variable income. She was struggling to pay back debt, and wanted to save more… somehow.
We worked together over 4 months to figure out her variable income, and make a plan to get rid of the debt (she did) and start saving.
Our work involved Skype sessions, guidance through a tested program of worksheets and reports, and lots of emails and accountabilty.
PRICE: $800 the first month, and $400 per month after that.
TOTAL PRICE: $2,000
Projecting YOUR financial future
How can I build financial stability that doesn't just last for this year, but keeps on going for the next 5, 10 or 20 years? Can I buy a house? Do I need insurance? How do I make sure I'm making good long term decisions but still have money to enjoy my life now? 
I work with clients to help answer these big questions by equipping them with a clear picture of their current finances and what decisions they can make RIGHT NOW to make sure they're on track to meet their future goals. 
We work together over a one year period, make a detailed financial plan, and make sure you have the support to put it into action. 
PRICE: $2,000+
What do other people think?
HOW DO YOU GET STARTED?
If you're interested in working together, we should talk. Here's what the next couple of steps look like: 
The form is just a little lower on this page, and once you finish and submit… you'll be linked to a page where you can book an appointment.
If there's any trouble or no slots are open you can email me at: chrisenns@ragstoreasonable.com
We'll meet, chat, and ask each other some questions.
Getting to know a stranger over the internet is always a bit weird… and so I try to make this as low pressure as possible. It's all about seeing if we're a good fit
If I think I can help you out, I'll send you an official pitch that will outline our work together and exactly what it will cost you.
Now that you've got all the information you need, you can decide whether you want to continue.
No problem if you'd rather not! No pressure at all.