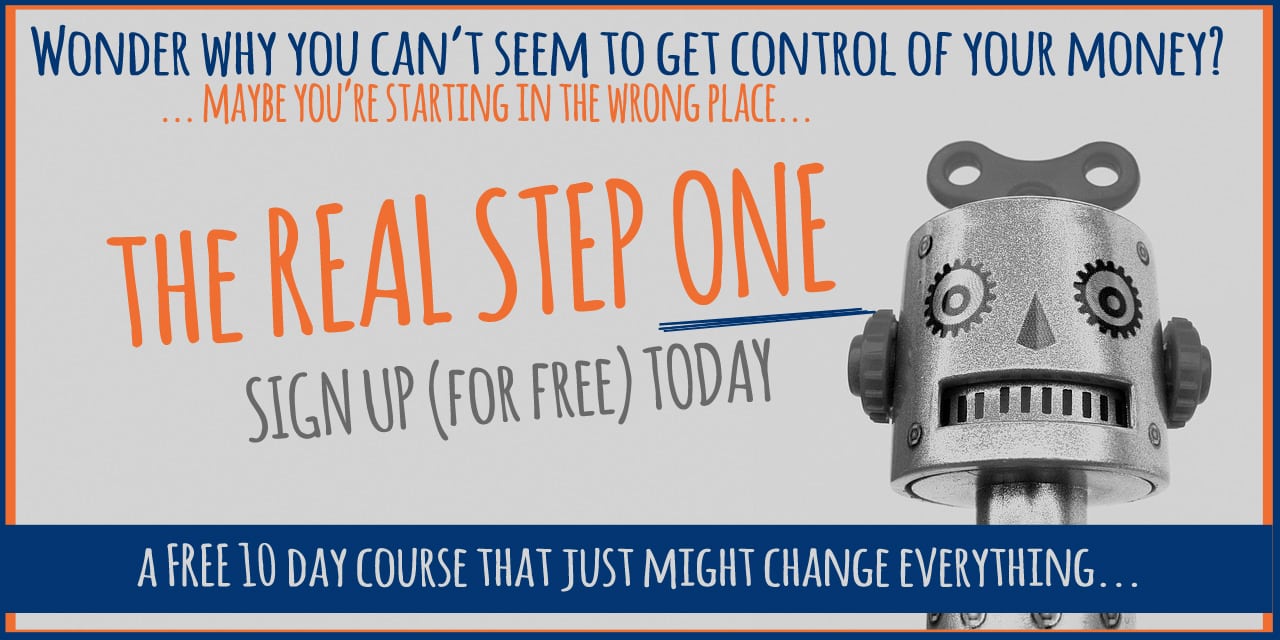 [yikes-mailchimp form="1″]
---
---
---
Does the internet need another money 'course'?
Normally I would say no… but the truth is… even with all the information out there on the interweb I felt completely lost when I was trying to get started with my money.
There was no shortage of budget templates, and debt plans, and investing advice. But all of that seemed completely overwhelming. I'd try it… but it would never stick.
It didn't seem like other people's "Step one" was MY "Step one".
So if you're like me… if you really want to change the way you feel about money, the way that you manage your finances, but just can't seem to start… maybe it's because you're starting in the wrong place…
---
---
---
the REAL step one
What I realized is that I didn't have a money problem (or at least that wasn't my main issue), I had a relationship problem.
I hated dealing with my money, so I would ignore it. That's where the trouble started…
This course reintroduces you to the only money that matters… yours. We won't talk about budgets, or investing. We won't use fancy financial acronyms. What we will do is give you the tools to reconnect with your money, and start thinking of it in a positive way.
More than that… we'll give you the tools you need to keep going long after this 10 day course is done.
What will I actually learn? 
It's simple. You'll learn two tools that will only take you 5 minutes a day to maintain.
That's right. 5 minutes that just might change the entire relationship to your money.
I show you through various studies why these simple tools have the ability to change everything, and give you some tips to avoid the roadblocks that usually keep people from following through. There are also daily homework assignments to help you connect the material to your life.
Why is it free? 
It's free because I really believe in this course. I think that very few people in the financial world are addressing the real problem that people have connecting with their money.
I want to help people relate to their money in a whole new way… so there's no excuse not to give this course a try (at least not a cost-type-excuse)
Is this only for artists and freelancers? 
Nope.
Nothing in this is specifically for artists and freelancers.
It's for anyone who want doesn't like the way that they relate to their finances.
Ready to sign up? 
You'll be rewarded with the first email right away which will fill you in on exactly what the two tools are, and what the next 10 days will look like!
---
[yikes-mailchimp form="1″]

---
… still not sure… let me see if I can convince you…. 
How does it work – DAY BY DAY
The 'Real Step One' is an email course. That means you get it delivered to your inbox every morning. But if you want to have a little bit of an idea of what I'll be sending your way and what the overall flow of this thing is… check out this break down:
How about now?? Sign up? 
You'll get the same email I promised you before … and… a day of best luck you've ever had!!!*
---
[yikes-mailchimp form="1″]
---
No? Okay… let me try one more time… listen to these guys…
What are people saying about 'the REAL step one': 
---
---
One last time…
I promise you … reading this entire page is way harder than the course itself
[yikes-mailchimp form="1″]
---
*'best luck you ever had' is not guaranteed, in fact it is is most assuredly not in my power…. unless it happened… in which case you totally owe me one.